Run DMC is Joe Simmons, Darryl McDaniels and Jason Mizell – they formed Run DMC in 1981 Queens and are now widely recognized as the most influential groups in music.  The had a SOUND – it was an "explode through your walls and yell at you" sound. The beats were heavy, almost the focal point of the songs, and the lyrics were stories of triumph. For the first time, hip hop rocked.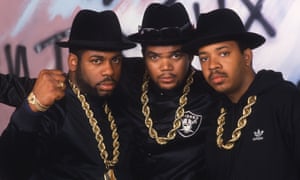 They had a STYLE. It remains impossible to disassociate Adidas sneakers minus the laces and big fat gold chains resting on a track suit. They merged the flashy, ostentatious style of old school hip hop with the streetwear leisure wear of new school hip hop.
Hip hop had previously been a DJ-front genre – with the DJ generally being the draw and the star of the show with the MC there to act as the hype-man for the DJ. Run DMC was an equal split draw between DJ and MC.  Joe "Rev Run" Simmons, and Darryl "DMC" McDaniels banded first and later recruited Jason "Jam-Master Jay" Mizell as their official DJ.
Joe's brother Russell was already a hip hop manager, and took on Run DMC as his project.
The project was successful.